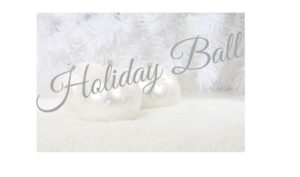 Holiday Ball is our annual fundraiser and celebration for our Membership and community. Holiday Ball has been a yearly tradition since 1927.
At the 1941 Holiday Ball, the League held a contest to spur sales of war bonds, crowning four "queens" at the dance, one from each South Bend high school. This lead to our current tradition, the presentation of the "Senior Sons and Daughters," made up of graduating seniors of current League members. Each year the Mary Lou Schwartz Award is presented annually at the Junior League of South Bend's Holiday Ball in honor and memory of JLSB member and community volunteer, Mary Lou Schwartz. Established in 2003, this award recognizes the volunteer contributions of an outstanding woman from our community who exemplifies the successful volunteer fundraising spirit and ability demonstrated by the award's namesake.
This year's Holiday Ball celebrated our accomplishments during 2019, as well as honored our Mary Lou Schwartz Award winner, Kathy Malone Beeler, along with our senior sons and daughters.
Please check back for details on the 2020 Holiday Ball to be held in December!
A Special Thank You to our 2019 Sponsors:
Diamond Sponsor ($7,500)
Kathy Malone Beeler
Gold Sponsor ($5,000)
Ernestine Raclin
Silver Sponsor ($2,500)
Carmi and Chris Murphy
Van Horne Jewelers
Bronze Sponsor ($1,000)
1st Source Wealth Advisory Services
Apollo Printing and Graphics
Beacon Health System
Jo Ann and Joe Blazek
Catherine and John Hiler
Center for the Homeless
Diocese of Fort Wayne/South Bend
Hahn/Walz, P.C.
MichaelAngelos Events
James and Julie Schwartz
Ginny and Chad Vanderbeek
Friend of JLSB Sponsor ($500)
Nancy and Stephen Ball
Chris and Gene Buczynski
Maddie Laidig Designs
Brian Regan
Saint Joseph Health System
Saint Mary's College
Areeba and Kashif Shaikh
Audra and James Sieradzki
Sisters of Holy Cross
Joey and Kurt Stiver
Supporting Sponsors (Under $500)
Angela and Philip Faccenda Jr.
Kathleen and John Seidl
Mary Jane Stanley
Women's Care Center